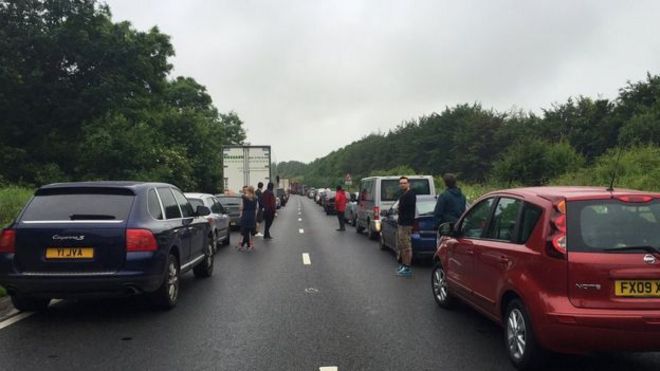 Glastonbury festival last year was faced with a major problem as traffic management around the site "fell short of acceptable standards". This left the festival goers stuck inside their vehicles for 12 hours. According to the district council, the campervans that were parked made the site inaccessible. Added to that, heavy rain poured before the event causing six hours delay. Festival goers were forced to walked in the thick mud to the camping areas with their camping bags.
Aside from Glastonbury festival, Download Festival will also be faced with a traffic management problem. The festival bosses are planning to make major improvements that will benefit patrons.
This year, Download Festival will happen at Donington Park on June 9 to 11 from Friday to Sunday. The bosses hope that the improvements will help the festival goers ease the hardship in going to the festival.
Improvements include new drainage systems, alternative traffic routes, disabled access, 400 strong dog squad for the festival goers and stage relocation in case of emergency are some of the improvements that they are planning for the event.
One of the organizers said that they will always find a way to improve the experience of the festival goers, since the feedback they received from the previous year is taken into account.
The organizers weren't prepared last year, they didn't expect a 70 million gallons of rain but with the new drainage system, it will help take water away from the site in no time.
For the events traffic management, the organizers are working with the local authorities to make alternative traffic routes to prevent the heavy traffic that happened last year.
This year, the car park, campsite, and the main arena will have solid ground routes that will be available so that the roadways and entrance to the arena will be accessible.
They are also planning to have a 34-hour security across the site with the 400 members of the dog squad that is stationed in the venue, car parks and places around the area. Zone managers are also assigned for each zone to ensure that the fans will get the right information from the organizers.
Lastly, the Avalanche stage will be relocated to have an easier access. It will be with a short distance from the main stage
They are also planning to open the area around the Zippo Encore Stage to improve the movement and flow of the crowd.